Celebrations
Monday • December 14 • 07:45 PM • Filed under:
Panama
Jane and Maria (Frit Arte) hosted a little Christmas party at Maria's restaurant a couple of days ago for some of the neighborhood kids, kids of Frit Arte workers, and kids of some of the police who eat at Frit Arte. Santa greeted them at the door and welcomed all the kids because they are on Santa's "Good" list. The game, "Pin the Nose on Santa" was a big hit. There was all the gourmet food kids are interested in (chicken nuggets and pizza) and cupcakes for dessert. The bottle of bubbles in the gift bags were fun. There were bubbles all over the restaurant with everyone popping them. Kids of all ages danced. Six boys and girls from a choir entertained with Christmas songs. It was a great time and everyone left happy and in the Christmas spirit.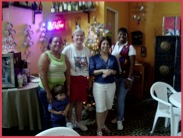 Back on December 8th it was, of course, Mother's Day. The unusual thing about this celebration in Panama is that it's a Government Holiday (all government offices and banks are closed) and it's a VERY BIG deal. All the stores and restaurants do a booming business and you see large extended families out for the day of celebration and shopping.

Stay tuned for a couple of Christmas Notes - they like to decorate in Panama.

Take care.