Making progress
Saturday • February 14 • 09:51 PM • Filed under:
Panama
Busy week, we made some real progress. We've finally "turned the corner" and the apartment is looking less like a construction zone and more like our new home. End of the month move in looks like it might actually happen. During the week we had painters, carpenters, the guys working on the walls and most importantly the new kitchen cabinets arrived and are now installed. Still to come, countertops and appliances.
Trying to get pictures that show the kitchen progress is only slightly easier than trying to describe the layout. It's a "galley" (sort of) layout - but the two sides aren't parallel. One side is completely open to the living/dinning room and is topped by a large wooden breakfast bar. The new cabinets, which Jane agonized over, really look great.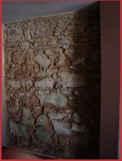 Our wall project, removing the plaster to expose the old stone is almost complete. We didn't realize how complicated and time consuming it would be - but the final look is great. Yesterday the workmen reapplied some mortar between the stone - they made the mortar from old crumbled stone (saved from pieces that had been removed) so it would match the old stuff. Very interesting to watch them work and I'm impressed with how much time they spend "getting it right".

Hopefully my next post will report the countertops have been installed and that we are still on schedule. Take care.