Fun night for a good cause
Sunday • April 05 • 09:47 PM • Filed under:
Panama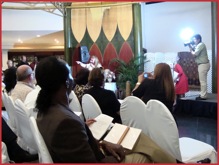 Last Thursday Jane and I attended a charitable auction sponsored by the American Society of Panama. The society is a non-profit that supports educational programs in Panama City - their primary project is a school in Casco Viejo. Membership is open to anyone, so in addition to those of us from the U.S.A. we meet Canadians, a couple from Australia, several Brits and Panamanians, the majority in attendance.
Lots of fun, especially the live auction - the female auctioneer (first in the U.S.) was very entertaining. The big item for the night was lunch with the U.S. Ambassador at the official residence. We bid on several items and now have this new piece of art hanging in the apartment.

Story: On our way to the auction we ran headlong into rush hour traffic. Our taxi driver (like every other driver in the city) decided he could get around the problem. So off we went, AWAY from where we wanted to go - because it was going to be quicker - it wasn't. After not moving for 10 minutes (normally the total time for this trip) the driver was getting more than a little impatient and he turned off the engine and got out of the taxi. We assumed that he was going to get traffic information from the taxi driver in the next lane, but no - he comes back and says we should get in the other taxi. He was going home! We changed cabs (the new one had a/c, which Jane thought was great). Our first driver charged us nothing and our second driver got us to the auction almost on time. Life in Panama's fast lane, you never know what's going to happen.

Take care.