Unusual Dinner
Sunday • August 30 • 04:29 PM • Filed under:
Casco Viejo
Friday evening we had another fantastic dinning experience at S'cena, here in Casco. Nathan (that's him standing in the doorway) and the crew took very good care of us. We had four appetizers (between the three of us), some of the best stuffed Grouper I've had, and a caramelized apple thingy for dessert. The food and it's presentation were outstanding.
The most unusual aspect of this night out, however, was how it came about.
Last week I was doing my evening tour of websites I regularly visit. On the
TripAdvisor's Panama City Forum
(a travel info website) there was an intriguing post. The poster was traveling to Panama a day ahead of his friends and wondered if any "locals" would be interested in dinner - his treat. After several forum members declined, because they weren't available, I decided to accept the invitation. I did warn him that we were "retired, old folks", just in case he had a more exciting evening in mind. Pierre's response - "great, see you Friday night".
I then asked Jane if she wanted to eat out Friday night, that we had a visitor that was going to treat us to dinner at S'cena. She said "who", I said "don't know" - but . . . . might (should) be fun. OK, the "blind" dinner was set.
Met Pierre at Plaza de la Independencia, and it quickly became apparent why taking a chance can be a good thing!. He was young (thirty years my junior) born in New Orleans, raised in Belize (where his family still lives), lives in Miami and he loves to travel. The back of his business card says "Will Travel To Eat" and in fact he was only in Panama for three days so a friend could take him to dinner at La Posta the next night for his birthday. He was my kind of person - always looking for the next adventure.
After a short walking tour of Casco Viejo, we met Jane for dinner. For the next three hours we swapped stories about St. Croix and our move to Panama for his more entertaining tales, made even more interesting because of his Creole tinged accent. Not sure if it was a fair trade - but we certainly had a fun evening. Thanks Pierre, next time it's our treat.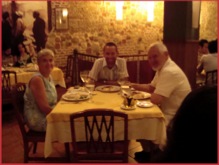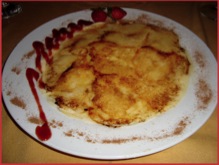 "There are no strangers here; Only friends you haven't yet met."
Yeats
Take care.