A visitor, música and night work
Saturday • February 21 • 10:32 PM • Filed under:
Casco Viejo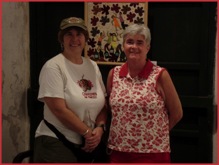 Had another Panama Notes reader stop by for a visit and she traveled a looong way to reach Panama. Bonnie is a English language teacher living in Japan and is checking out Panama and Mexico (her next stop) as a possible place to retire. Jane and I needed to do some shopping at Albrook Mall so Bonnie decided to tag along and check things out - she was impressed. Even checked out the theater and decided she would return to catch a couple of flicks - ticket $4.00 versus the $15 it costs in Japan. We had a good lunch and got some stuff we needed for the apartment, then back to Casco.
That night we gave Bonnie a little night time walking tour of Casco Viejo. Saw the usual - but because carnival is this weekend we also saw these guys working on a float for the big parade. We also stopped by for an ice cream (Bonnie treated, thanks) and then crossed the street to Casa Góngora for the Friday night free concert. The música was great and the crowd interesting - as usual. After the concert ended we walked Bonnie to her hostel and then back to the apartment - another enjoyable night and we really enjoyed showing Casco Viejo to our new friend.
Take care.