A Sunday drive to Cañita
Sunday - August 10 - 09:19 PM Filed in:
Panama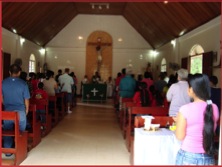 After church I (notice that singular, Jane was a reluctant passenger on this expedition) decided it would be interesting to drive East into the province of Darién. The Darién has historically been seen as a foreboding, dangerous place, a wilderness into which explorers venture, never to return. I was quite certain we could pull off the "return" thing, as we were only going as far as the small town of Cañita - as long as we didn't get another flat tire. The province in HUGE and contains Parque Nacional Darién, that alone covers over one million acres of wilderness that sprawl across the isthmus near the Colombian border. All I wanted to do was drive out to Lake Bayano, take a picture or two, grab lunch, and then return to Cerro Azul. A pretty modest undertaking compared to the explorers that had preceded us.

With our newly repaired "magnetic tire" packed safely in the truck we head off into the gathering rain clouds. Remember, it's the "rainy season". Soon we see a few sprinkles hitting the windshield, then a little rain shower - closely followed by a downpour. Jane thinks we should save this trip for another day - I push ahead (a little rain can't stop real explorers), hoping it won't get any worse. It does, but hey - we've come this far, can't turn back now. About an hour into our journey we come to a police checkpoint - serious looking gentlemen take a first look at our papers and instruct us to pull over to the side. This checkpoint is the last major police presence for several hundred miles (looking for drugs, arms, "bad guys" - all that good stuff) and WE get pulled over. Upon further questioning, everyone was smiling and we were happily waved on our way.

Whoops - what's that flashing on the dash. No problem, it's only the low fuel warning - must be a gas station around here somewhere? We find a gas station - no gas! In rapid fire Spanish we THINK the guy says La Blanca has gas - wish we new where that was. Enough of this tale (I think you probably figured out we found our gas, because I'm back at my computer) except to point out the obvious - Jane was not a happy explorer during this phase of our journey.


We did find Lake Bayano - even have this picture as proof (only one I took, because of all the rain). Back in
Cañita
we decide it's lunch time - late as usual. I had chicken, Jane pork (she thinks) along with rice and beans, a salad, and two cokes. Total bill $6.70 - that's for BOTH of us.

The trip back to Cerro Azul was pretty boring. We had gas, it was raining so hard that even the police weren't manning the checkpoint, and we actually knew where we were going. Just another day for us "real explorers"!