Cerro Azul - Wanderings
Thursday - August 07 - 09:17 PM Filed in:
Panama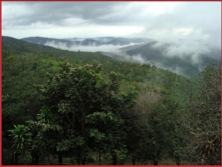 Got up this morning to clouds and rain showers (at least I did). Jane, who is the early riser, saw a little sun before the clouds rolled in and enjoyed a chilly 64° for her early morning walk with Wags. After breakfast I worked on a pot of black bean soup for later in the day (great soup weather here in Cerro Azul) and then went out for a short walk and got invited to a neighbors house to get a resident's take on the area. Smitty and
Rachelle
have been living full-time in Cerro Azul for about a year and a half, have a great house, two Australian Shepherds and enjoy their new lifestyle. We talked about everything and certainly came away with a better understanding of what it's like to live in Cerro Azul. Our visit with them also highlighted the obvious - you ALWAYS receive the best information if you can take your time, look around, make connections (planned or otherwise) and actually sit down with people that have already done what you are thinking about doing. No amount of reading (this blog or any other), research, or "experts" telling you what is best, can provide the kind of information you get when talking directly with everyday people, like you and me.
After lunch, we got in the car for a little tour on our own. Jane has done the driving the last couple of days, while Wags and I enjoy the scenery. Looked at several houses and walked in the park.
The houses (around 600 total) in Cerro Azul range from big to very small, fancy to plain, well kept to falling down, with any combination of the preceding existing side by side. Most are owned/occupied by Panamanians, with a large portion of those homes still used only as weekend
or vacation retreats - as a result, you don't see a lot of people during the week. Remember, Cerro Azul has been around for thirty years - so, most of the house have some years on them. Many are (have been) being rehabbed and or enlarged so they meet expat expectations. There is a growing, very diverse, expat contingent (U.S. citizens certainly don't dominate) that are attracted by the affordable houses, climate and the convenience of being only an hour from Panama City with it's restaurants, entertainment and services. It's obviously not for everyone, but those that live here are happy with their choice.