Feria Nacional de Artesanias
Thursday - July 31 - 06:12 PM Filed in:
Panama
Jane and I walked down to the ATLAPA Convention Center to check out the National Handicrafts Fair. Tickets for us retirees (jubilados) - a whopping $1.00 each. Inside we saw a variety of arts and crafts which would have done a great job of giving any house a true Panama look. Alas, no house. After wandering around for a couple of hours Jane did buy a Molas decorated purse. The real highlight of the outing was the entertainment.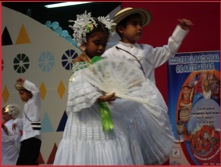 Today it was a non-stop display by young Panamanians in traditional dress performing all manner of traditional Panamanian dances.

The dancers ranged in age from five years old (our guess) to teenagers. They were enthusiastic, very good and obviously proud to be carrying on the traditions of Panama. Smiles all around - we had a great time!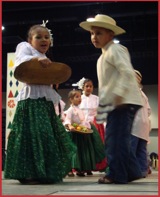 Note: The fair runs through this Sunday (8/3) if you happen to be in the city.