Back in the City
Friday - August 15 - 07:08 PM Filed in:
Panama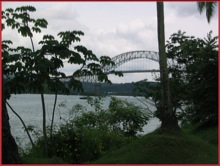 We returned to PC yesterday. It's a little warm (Jane says, hot) after our week in the mountains and will take a couple of days to readapt. Because our apartment wouldn't be ready until late in the day we decided to tour a small development just West of Panama City, so we cross the canal on the Puente de las Américas (Bridge of the Americas) and head for the town of Arraijan, about a thirty minute drive. Closer to the city than Cerro Azul, a small development in Arraijan had all new construction - so we thought it might be worth looking at. The location was pretty good but the construction quality just wasn't what I thought it should be, so it won't be on our list for future consideration. Nice trip though - gave us a look at an area we had not previously visited.
Back in the city with still some time to kill, we go looking for Panama Viejo. The
original
Panama City, it was founded on August 15, 1519 and is the oldest city on the Pacific coast from Alaska to Chile and this weekend they are celebrating it's 489th birthday. Today the area is a historic site with ruins in various states of preservation. We took the walking trail that had numerous bilingual historical markers and learned quite a bit about the history of Panama City. We plan to return when we don't have Wags along so we can more fully explore the area. If you haven't visited Panama Viejo, it's worth the time and effort.




At the apartment we unpack for the sixth time - only one more to go when we move to Casco Viejo on September 1st for a six month stay. Can't wait as we will finally be able to unpack all our suitcases.




Our rental car is not due back until in the morning so we decide to go out for dinner. We leave for the Amador Causeway with route "A" and "B" all planned out - we end up using route "C". The causeway was built with rock from the excavation of Culebra Cut (part of the Panama Canal) and links four small islands, Flamenco, Perico, Culebra and Naos. Designed as a huge breakwater to protect the entrance to the Canal it was used as a U.S. Military base until the Canal Zone was "reverted" to Panama in 1999. Today, it's a recreational, shopping and restaurant (our reason for going) destination for Panamanians and visitors. We had a nice dinner and then walked around, got an ice cream for desert - a very pleasant evening.

Another birthday being celebrated in Panama today - The Panama Canal officially opened for operations on 15 August 1914. We are trying to schedule a Panama Canal transit (mini cruise and tour) so I will save talking about this engineering marvel for a later "Note".


Take care.