Playing Catch Up
Tuesday - September 23 - 10:14 PM Filed in:
Panama
Will try to get back on schedule after my little layoff - was very busy doing nothing!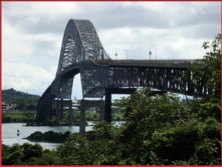 Last Friday we rented a car so we could do a little exploring outside the city and run a few errands. Our first trip was to La Chorrera to check out a small development. It was a thirty minute drive West on the Interamericana Highway to Brisas de los Lagos where the project engineer gave us a great tour. They have done a very nice job so far and we liked what we saw. Two big decisions we still haven't made - city versus country and this project would require we build (something that I didn't want to do - hassle factor, mainly) as they have no existing homes for sale. Still, it was impressive enough that it is on our "list" as the search continues.
After our tour we headed back towards the city and took a side trip to the little fishing town of Veracruz for a late lunch. Our destination was the restaurant Rincon del Filo. Fortunately the restaurant had placed relatively frequent signs to guide us as we wandered along. Our trek was rewarded by a very good lunch in a nice setting - we had the place all to ourselves. After lunch, back to the apartment for the usual ritual - walk Wags and go to the ice cream shop.

Take care.