Staying in touch
Tuesday - July 29 - 10:01 PM Filed in:
Panama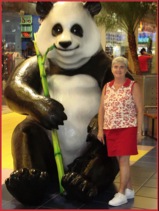 Whether moving or visiting you'll want to stay in touch with those "back home". Fortunately, the internet makes that much easier than in the old days - I remember touring Europe and having to seek out the local American Express office to get my two week old mail and then beating my post cards home.

Email
: Today, it's easier and faster - if you remember just a couple of things. If you're a laptop user and are familiar with wireless access - problems should be minimal (just brush up on security issues and protocols). Hotspots are readily available, especially in Panama City. If you normally access your email from your desktop machine, you may find yourself out of touch - unless you are familiar with using a public computer (internet cafe) and accessing your email via your providers "webmail" interface.
Phone
: Coming up fast on the outside and about to pass sliced bread in the long-standing "next best thing to ......" category is VOIP (for the acronym challenged - Voice Over Internet Protocol) or internet telephone. Using VOIP we can make inexpensive or even free telephone calls to most places on earth. Cost depends on where you're calling (not where you are) and is particularly inexpensive when calling TO the U.S. - 2.5¢ or less. We use two of these services -
Skype
and
VOIPforLife
there are plenty of alternatives. Skype requires that you computer be on to receive or make calls, VOIPforLife does not - both require you have a reasonably fast internet connection. Quality of the call is pretty good, not perfect - most of the time it's as good as a regular phone, sometimes better but on occasion unusable - that's why we have two providers, so we can use what's working best. Most of these providers offer a wide range of services (some free, others fee based) some even offer video calling. I particularly like the ability to have multiple stateside numbers that ring to our computer here in Panama. Even if you're not a techie, you should give it a try - Jane gives it five stars (at least when it's working properly).


Cell Phone
: We use our cell phone
only
for calls within Panama and have a prepaid plan. That's unlikely to change as this fulfills our needs, don't need the "bells and whistles". We just want a phone that works. Movistar is our cell phone provider. Why? Because we got tired of standing in line at Cable and Wireless and Movistar was the first booth we happened upon in the mall. I didn't waste time on research because it's my experience that people always complain about their service and think another option would be better - that's usually not the case. Movistar's coverage and reliability (for us) has been good so far. We have two phones, one purchased here ($24.95), the other we brought with us and just purchased a Panama sim card ($4.15). The per minute cost is about 10¢ via refill cards available everywhere.
Note
: If you plan on bringing a phone with you and buying a local sim card it must be
unlocked
and able to work with the
GSM 850
technology.
Mai
l: Mainly because I like to play with and try new technology we use
Earth Class Mail
as our mail forwarder. This company gives you a stateside address (several to choose from) and receives your mail - then, instead of "forwarding" the actual mail to you in Panama they scan the exterior of the envelope and send you a email notice that "you have mail". You then go online, view the scanned envelope and indicate to Earth Class what you want them to do: Shred, Recycle, Achieve, Forward to a specific address (stateside or Panama) or Open and Scan Contents. When you choose the latter you then receive a PDF of the contents. After you look at the PDF you can then select any of the previous options as the final action to be taken. What is amazing, too me, is how little mail we receive where we need to have the original contents - hasn't happened yet. We keep the PDF on the computer and have the original shredded. Give it a look, Earth Class Mail might work for you.

Hope this helps someone. Oh, almost forgot - you, too, could start a blog (especially if you have lot's of spare time).