Celebration
Thursday - August 21 - 10:55 PM Filed in:
Panama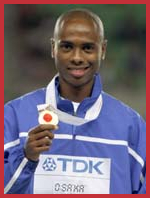 I suspect that a lot of you are watching non-stop coverage of the Olympics and cheering the efforts of the your home countries team. Our Olympic TV coverage here in Panama is nothing to rave about - language is not the problem, it's the amount of coverage (not a lot) and trying to find it on the local channels. For those of you paying close attention who might have looked WAY down the medal standings list to those countries who have a single medal to their credit you would have seen Panama and maybe thought "that's neat" or even "that must be a big deal" down in Panama where Steve and Jane are.

As your "reporter" on the ground in Panama let me tell you that Irving Saladino's gold medal in the Long Jump is not a big deal in Panama, it's a HUGE DEAL. It was historic - For the first time in its history, Panama has an Olympic Gold Medal. Since his winning performance, Panamanians have been in full-out celebration mode. Fireworks, parades, vehicles racing up and down the streets with blaring horns and waving flags, with today being declared a national holiday in his honor. Get the idea - it's probably beyond huge.

So . . . (as I like to say) if you find yourself disappointed by some aspect of the 2008 Olympics, look at Irving Saladino's historic achievement, smile and join the celebration - this is what sport is supposed to be about.