Tuesday Night Football
Tuesday - August 26 - 10:57 PM Filed in:
Panama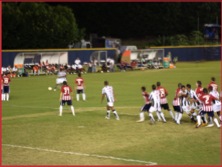 Tonight we ventured out for a real football game (soccer to those of you in the U.S.), a Liga de Campeones (Champions League) match between Chivas U.S.A and Tauro F.C. at Estadio Rod Carew. This was the first time I have been able to see a MLS (Major League Soccer) team in person and anticipated a pretty good game because they were facing one of the better local teams. It was a good game, although Chivas had several serious defensive lapses - guess that's why they lost 2-0.
Some observations on the evening, not on the match (if you are into soccer check
here
for the details). The grandmother sitting in front of us with her non-stop commentary on her local teams performance. The vendors carrying around food and beverages in 5 gallon buckets. ACT II Microwave Popcorn (still in it's original bag, but popped) was a crowd favorite. The tickets were only $10.



Our biggest challenge of the evening - getting to and from the stadium. Our trip out was during rush hour - hard to find a taxi and slow moving after we did. Coming back, because the stadium is a little off the well traveled path, we were concerned about finding a cab. We left a few minutes early only to find - NO cabs. Walked out to the main gate - NO cabs. Jane talked with a stadium employee - and in two minutes we had a cab, whew - it would have been a very looooong walk.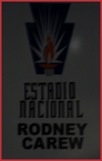 Yes, for those of you wondering, it's Rod Carew the MLB star (and Panamanian) that the stadium is named after.


It was a very pleasant evening - nice watching a good football game under the lights.

Take care.