Tonight, eating out at . . .
Wednesday - July 23 - 10:20 PM Filed in:
Panama
Because our temporary digs lack a kitchen we usually eat one meal a day out on the town. Tonight it's Restaurante Jimmy on Avenida Cincuentenario, it's only six blocks - so you guessed it, we walk. We wait until a little after 6:00 (we will be eating early by Panama standards) and it's a pleasant walk.

It's not a fancy place, but offers both outdoor and indoor (with AC) options for seating. We head inside to one of the tables where we can watch the pizza and bread guy do his thing in the kitchen. Every time we have eaten at Jimmy's it's been the same young man and most nights it's non-stop action. The menu is extensive (sandwiches to steaks - true Panamanian to Greek, and everything in between) and the prices (to us) very reasonable.
Tonight Jane and I both get Corvina Jimmy, we ordered it with papas fritas and a house salad. To drink, our usual - Coke Cola Light (for some reason still unexplained to me, Diet Coke does not appear to be available in Panama). Corvina is a common local white fish and you can get it cooked about any way you can think of. Tonight it's broiled and toped with Jimmy's "special sauce" - very good! The "papas fritas" (for those of you still working on your Spanish) = french fries. The house salad, fresh, but forgettable - except for a strange vegetable we are unable to identify. We polish the whole thing off (Jane gets a little help with her Corvina, it was a big filet) except for the few fries that find their way into Jane's purse - Wags likes those fries. The total bill $26.25.


When we leave the sun has set and it's cooler. We make a quick stop at the Super99 (grocery store) and then almost magically our feet take use to the drive-by (for us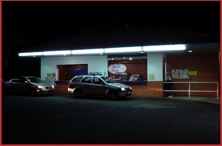 walk-up) ice cream place for desert. Dos batidos de chocolate, por favor (everyone is working on your Spanish, right?). We sit at the little outdoor tables (drink our chocolate shakes) and watch the "Red Devils" racing up Calle 50. Finish the shakes, then off to the apartment, where Wags is waiting at the door with his best "Where are my fries?" look. He gets his fries - I head for the computer.

Note:
Restaurante Jimmy
is located just behind the Atlapa Convention Center and near the Sheraton Hotel.