Nice and cool
Tuesday - August 05 - 09:39 PM Filed in:
Panama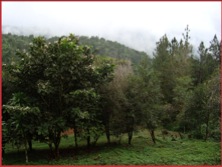 We're in the mountains and a couple of things are strikingly different from the city - it's cool and quiet! About twenty minutes after leaving Panama City we started the climb to Cerro Azul and arrived at our new (temporary) digs about forty minutes later. The changes during the hour long drive (total) were quiet amazing. - We left the city on the modern multi-lane toll-road (Corredor Sur) and finished on a winding two-lane country road that could use a little work. The high-rise towers of the city were replaced by towering pine trees. Paved streets by chicken farms. Honking horns by singing birds. Best of all, I can look out the window while typing this and see the lights of Panama City - it's that close.

Background - This little nine days trip was a last minute thing when our planned outing to Contadora island seemed to be getting a little complicated - we opted for a rental car (no crate) over airplane (crate) when Wags out voted us. So far, so good - everyone is happy.


Our host is Paul Haney ( a Canadian who has lived in Panama for eleven years) who together with his brother Dave operate "Panama Canada Realty" and have a couple of rental properties in Los Altos de Cerro Azul along with their construction/rehab business - more about that later, when I get a chance to take some pictures. Also, to come, some thoughts on Cerro Azul (does it stay on our "list") and how it compares to it's much newer (better publicized) sibling, Altos de Maria.

We've been guaranteed a bright clear day tomorrow (meaning, we have a good chance of seeing the sun) - so we plan to do some hiking and enjoy a little laid-back mountain living. Take care.


Note
: The mountain air apparently agrees with my proof reader (Jane is fast asleep) so any miscues are mine alone.