Nueva Avenida Balboa
Saturday - September 27 - 10:05 PM Filed in:
Panama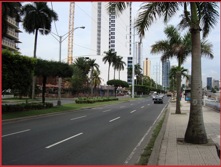 Today we needed to run a couple of errands in the El Cangrejo neighborhood. A two dollar taxi ride, then we walked around and amazingly accomplished everything on our list. It was around noon and there had been a light rain that cooled things off a bit - so we decided to hike back to Casco Viejo. Besides, we had wanted to eat at Restaurante Boulevard Balboa which was at about the halfway point so we could always grab a taxi if our legs gave out. We had been once before (on our 2006 visit) when a Panamanian took us there. I had a "combinación especial", Jane a Cubano and a chocolate shake - everything was great AND we took half home with us for dinner.
After lunch we decided to continue our trek and that's the reason the pictures associated with this note are of a construction project. Namely the "Cinta Costera" (Costal Strip) or the New Avenida Balboa. This is a massive public works project that will create over 75 new acres of land by filling a portion of the Bay of Panama. The new land will be used to expand Avenida Balboa, add some new park land, and in general make the area a little more pedestrian friendly. Hidden beneath the road and parks is the most important part of the project - the first major attempt to deal with Panama City's sewage and drainage problems.

This YouTube video is the "dreamers" version - will see what reality brings upon completion next year. Take care.